Genealogy Tea Time: Proving Revolutionary Service
Zoom
2:00 pm — 4:00 pm
#Genealogy Tea Time
#Family History
#Revolutionary War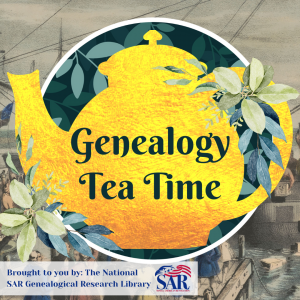 Join the SAR Genealogical Research Library on the third Saturday of the month (March 18th) for another special topic! This month we will be discussing strategies and resources for Proving Revolutionary Service. March's Genealogy Tea Time event will take place via Zoom and is free for all to attend. Pre-registration is required.
The Genealogy Tea Time events are designed to brainstorm our experiences and brick walls – usually centered on a designated topic, but all research questions are welcome! Let the genealogy hive mind help you find the right resource to solve your family history mysteries – while sharing inspiring stories along the way! In order to best help the group, we encourage researchers of all expertise levels to attend so we can learn from each other. Be watching our upcoming events in 2023 for a few IN-PERSON Genealogy Tea Time events.
Event Date & Time: Saturday, March 18th, 2:00-4:00 PM EST
Location: Virtual via Zoom – instructions for joining will be included in the registration confirmation page, and a reminder email with the instructions will be sent out the week of the event.
Cost: FREE